Signs You Need Make-Up Air
Introduction
The lack of make-up air in a building can cause serious problems. Many times the problems are not even recognized and show themselves in ways that most people do not think about. A properly designed and installed ventilation system provides environmental control by avoiding negative pressure. Uncontrolled infiltration of air through window sashes, doors and
Read More

Sulzer Inc.

Fluid Engineering is a proud distributor and representative of Sulzer® Pumps, one of the worlds leading pump manufacturers.

Sulzer manufactures specialized pumping solutions and agitators/mixers for the following industries:
Oil and Gas
Hydrocarbon Processing
Pulp & Paper
Power Generation
Waste & Wastewater
Food
Metals
Fertilizer
Sulzer manufactures a wide range of single stage pumps in a variety of configurations and manufactured to a a number of international standards including API, ANSI and ISO. Pumps range in size from small industrial 25mm end suction designs to large between bearing API 610 compliant machines.
No matter what your application we are sure that Fluid Engineering can help you find a Sulzer single stage pump that meets your requirements:
The Sulzer "CPT " ANSI chemical process pump is designed for continuous operation in process industries for pumping clean, abrasive or corrosive liquids. This pump is designed to exceed ANSI (ASME B73.1M) pump standards.



The Sulzer CPT Advantage fits your configuration like otherANSI dimensional pumps

. But that's where similarities end. On the outside, the CPT Advantage offers special feature that make maintenance and adjustments a breeze. The real difference between the CPT Advantage and other ANSI pumps, however, is what you'll find inside. For example, the standard CPT Advantage wet-end components are cast in duplex stainless steel (unless specified otherwise). Another example is Sulzer's heavy-duty bearing unit, designed for long life and tough applications.




Sulzer has packaged over a hundred years of manufacturing experience and process management into the CPT Advantage. The CPT Advantage delivers all the performance and reliability you would expect from one of the world's leading manufacturers of industrial pumps.
The new CPE pumps meet the process requirements in a variety of industrial applications and are suitable for use with clean or slightly contaminated liquids, viscous liquids of up to 3'000 cSt, and fibrous slurries with a consistency up to 6%.
The Sulzer AHLSTAR™ Process Pump series offer versatility in hydraulic designs for the most demanding pulp & paper and chemical process pumping applications. High pumping performace comes as a result of the availability, reliability, and quality of the right pump. Genuine spare parts and proper maintenance ensure the high performance of Sulzer ALHSTARTM process pumps in complex production operations. Fluid Engineering and Sulzer support their customers with an extensive range of pumping services from spare parts to remote monitoring. Additionally, we offer various types of service agreements in which spare parts and service solutions can be combined.

AHLSTAR™ A pumps are designed for pumping clean, abrasive or corrosive liquids as well as stocks of various kinds. If the liquid contains gas or air the pump can be modified with either internal or external gas removal construction which stabilizes the operation. The Sulzer Dynamic Seal is specially designed for difficult liquids offering reliable operation and low total sealing costs.

AHLSTAR™ N pumps are designed for pumping abrasive or corrosive liquids, sludges and slurries containing large particles or long fibers. Special hydraulic design prevents plugging and lets big particles pass. Gas removal systems broaden the scope of applications to include those containing air or gas.

AHLSTAR ™ W pumps are intended for corrosive and abrasive applications where durability is essential. The special hydraulic design reduces erosion while careful selection of parts materials to make them compatible with corrosive conditions, gives extended working life and reliability. Gas removal construction is also offered.

AHLSTAR ™ E pumps provide continuous operation in industrial processes. Typical applications include the pumping of hot clean, abrasive or corrosive liquids and liquors. These pumps are particularly effective where system pressure is high and pressure/temperature shocks occur.
*BBS Between Bearings Single Stage Pumps (ISO 13709 - API 610 BB2) pumps are primarily used in process applications in refineries and petrochemical plants. The broad pressure and temperature capabilities of this design allow it to be used in the most arduous applications while still providing long and trouble-free service. The double entry impeller is particularly suited to low NPSHA applications.
*HZB Double Suction Volute Pumps are horizontal, single stage, double suction, centerline mounted pumps. They are designed for hot water applications with relatively low NPSH available, primarily as booster pumps for large boiler feed water units in both conventional thermal and nuclear power stations.
*OHH Overhung Single Stage Pumps are Sulzer's latest range of ISO 13709 (API 610 OH2) standard process pumps. Over 70 sizes make up the hydraulic range - the largest on the market. In addition, the extensive range of flow and head, care has been taken to ensure that almost any application can be accommodated within the pumps preferred operating range. Designed to meet or exceed the requirements of the forthcoming 9th edition of API 610, the pump also incorporates the extra features commonly specified by the major oil companies.
*OHHL Low Flow High Head Pumps are designed for use in heavy-duty refinery services, petrochemical plants, and offshore services. They are designed according to ISO 13709 (API 610) and ISO 21049 (API 682). OHHL pumps feature the same rugged design with low flow hydraulics for improved hydraulic fit - even at low flow conditions.
*The OHM overhung API 610/API 685 process pump includes the latest in sealless pump technology. It is a horizontal, single-stage, radially split, centerline mounted pump with a high-efficiency magnetic coupling. It is a hermetically sealed system, including a secondary containment with a dry running safety seal.
*The type OHC API 685 Canned Motor Pump is driven by a canned motor and is characterized by a compact, integrated unit. The motor and pump form a unit with the rotor and the impeller fitted onto a common shaft.
*The ZE/ZF Process Pump is a horizontal, single stage, radially split heavy duty centerline mounted process pump with single flow closed radial impeller.
Sulzer Medium Consistency (MC®) pumping and chemical mixing systems are the most important stock transfer equipment in the modern O2 deliginification and pleaching processes in the pulp and paper industry. With the new MCE™ pumping technology, a new record level of performance over a wide consistency, temperature, and pressure range is provided by the unique Fluider™ impeller, having effective multifunctional turbulence generation, gas separation, pumping hydraulics and degassing combined with a wide-passage gas removal system of high capacity.
MC® pumping technologies include:
MCE® Pumping Systems is designed for continuous operation in the pulp and paper industry, for pumping of stocks at up to 18% consistency. MC® pumps are also used for mixing of liquid bleaching and process chemicals into the stock.
SX Chemical Mixer is a medium consistency mixer designed for mixing both gaseous and liquid bleaching chemicals and steam into paper stock.
MC® Discharger is designed for dividing and controlling high consistency stock flow and for discharging towers and bleaching reactors. It is possible to remove gas from the process with a Discharger.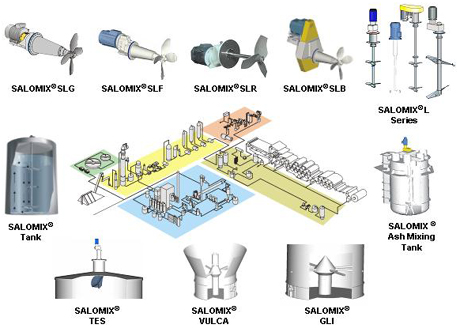 SALOMIX® Mixing Technology
The Sulzer Pumps Karhula Pump and Mixer Factory has one of the worlds largest research and development facilities for agitators and agitation technology.
With its focus on the various needs of the pulp and paper industry, Karhula Pump and Mixer Factory has accumulated unique knowledge of the industries agitation process needs and has over 30 years experience from different PPI applications.

Precision manufacturing technology together with strict quality control procedures assure high levels of efficiency and performance. The quality control management system is registered and independently audited.
SALOMIX® SL ST agitators are side-mounted gear or belt driven propeller agitators specially designed for fibrous stocks in all process conditions.
The SALOMIX® L Series covers gear or belt driven agitators mounted vertically on the tank top flange or through the tank bottom.

The power range covers agitators with motor up to 450 kW. Versatile impeller options with single or multilevel paddles, propellers, turbines, dissolver discs, anchor etc. make it possible to control many different kinds of agitation operations and process needs in compliance with the rheology of the mixed fluid.
SALOMIX® TES Series are in big storage tanks or towers, the out-pumping stock quality is difficult to control - especially when the stock is diluted in the lower zone of the tank.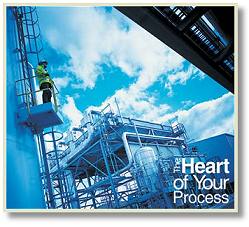 Sulzer Pumps bears an international reputation for excellence. This excellence, coupled with local support from Fluid Engineering, makes Sulzer Pumps your ideal pumping solution provider.

We have the energy, we have the experience, we want your problems! Please call us at 1-800-841-9944 for any of your pumping, dust collection, or air handling needs today.
*NOTE - Products indicated with a (*) are not specifically represented by Fluid Engineering, Inc.